Project management in NGOs
|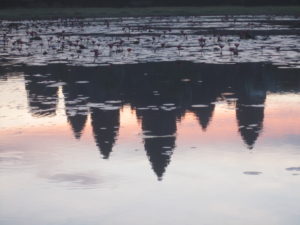 After more than 20 years in corporate IT consulting environments, I volunteered my project management services to a non-governmental organization (NGO) in Cambodia. Here are some of my experiences of the challenges facing project managers in NGOs and in developing countries in general.
NGOs are non-profit organizations that typically function in the areas of social development and improving the quality of life of underprivileged individuals. They are most often funded by international aid and donors.
Initiatives from NGOs are usually performed as projects. The aims of such projects may be to
alleviate poverty
improve living conditions
ensure human rights
protect the environment
help victims of natural and man-made catastrophes
further develop the health and education systems
Project success is measured in terms of socioeconomic progress and the levels of desired outcomes that resulted from the project. In turn, this translates into effectiveness of the donor funds. These types of results are not always tangible in nature and may not be straightforward to measure.
Project management responsibility
Project managers in NGOs have the tendency to track only the day-to-day resource utilization, for example costs and effort. However, most projects have an ultimate goal to produce positive changes that will be sustained after the initial donor-funded assistance comes to an end which exceeds the project timeline. Projects in NGOs are additionally subject to rigorous Monitoring and Evaluation procedures. These may be required by the governments of the countries where the projects are implemented or by the donors who want feedback and assessment on how their funds are utilized. There may also be organizations that research and publish effectiveness of NGO initiatives that are active in particular geographic or program areas.
In reality, most NGO personnel are not formally trained in project management skills and projects are often led by »the accidental project manager«. Initiatives to train international development staff in project management skills are underway. One example is the organization PM4NGOs which is itself an NGO, that promotes and sustains the professionalism of program and project management in the international development sector.
The Project Management Institute (PMI) is also committed to assisting NGOs in international development in their efforts to build a better world though better-managed projects. Their International Development Community of Practice addresses a vast array of issues related to social and economic transformation by sharing project management best practices and building the capacity of project managers through webinars, discussion forums and blogs.
Stakeholders and cultural differences
Another characteristic of international development projects is the complexity of many involved stakeholders. Typically there are three groups of stakeholders: the funding organization which pays for but does not use the project outputs, the performing organization which executes the projects, and the target beneficiaries who benefit from project results.
Financial accountability by the project manager is often considered as important as their responsibility to achieve project objectives. This is even more important since many international development projects are performed in developing countries where corruption may be part of reality and funds may go into unauthorized channels.
Cultural and knowledge gaps between donors and recipients may also result in a mismatch between the real needs of the beneficiaries and the capacity of the funding agencies. This may result in poor project definition and consequently failure in the implementation.
International development projects may sometimes be part of political manipulations. The real interests of different stakeholders
in these projects may be different from the stated objectives in the project document.
Measuring success
As an example, my experience at the NGO was to manage a fundraising campaign to raise capital for microloans to extremely poor families. The campaign had a specific financial goal: to raise $5000 in the allotted time frame. The fundraising project could be classified as successful if we achieve this goal. However, in the context of the project outcome, the project is successful only if we apply the funds to actually make a difference in the lives of extremely poor families. Therefore the fundraising campaign had a more specific goal: to raise capital for microloans for 30 families to enable them to earn enough income to afford to send their children to school. Unfortunately, child labor is often practiced to make ends meet when parents don't earn enough income. In perspective, the project is not truly successful if it just achieves the funding goal. It is considered successful only when the children of the involved families are attending school.
Project managers in NGOs must be aware that the success of their project is viewed in the context of achieving long term socioeconomic change. The immediate success of the project is just a stepping stone in the process to achieve greater good.
— Article published in PMI Slovenia Chapter Newsletter, Issue 8 Year 3