Project stakeholder management
|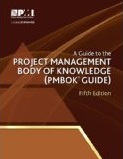 PMI published the newest, fifth edition of the Project Mangement Body of Knowledge or PMBOK, the worldwide recognized project management manual.
As with each new edition of the PMBOK there are numerous minor updates. This time, however, there is a major update and that is the addition of a completely new chapter. It deals with a new knowledge area that should be familiar to all project managers: stakeholder management.
I have to wonder what was the reason for introducing a completely new knowledge area that a project manager should master? Was this knowledge area not required previously? Are there any new circumstances that caused the need for a new knowledge area? Or was this knowledge there all the time, it just wasn't grouped together in a chapter but rather split in processes here and there? A detailed reading of the new chapter reveals that it is indeed the latter. Project Stakeholder Management was there in previous versions of the PMBOK, covered in several chapters, predominantly in the Project Communications Management chapter.
Although many of us expected the new edition of the PMBOK to contain more content related to agile project management it turned out that very little agile was added. But if we think about it, one of the major critiques of traditional project management as represented by the PMBOK compared to agile approaches was that the customer is neglected too much and that projects are performed too mechanically, without really understanding the customer's needs. We know that traditional project management doesn't really neglect the customer. It has always been important to nurture relationships with all stakeholders, including the customers. In this light we could understand the introduction of project stakeholder management in a stand-alone chapter as PMI's answer to the aforementioned critiques.
PMBOK lists project stakeholders as a wide range of entities: those who will be positively affected by the project as well as those who may be hurt by it. Stakeholders to be taken into account may also include those who believe they have something to do with the project even if they don't.  There are so many stakeholders that may be involved in projects and whose relationships and impact has to be managed that the chapter is a welcome addition to the world of project management.