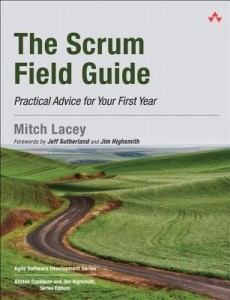 Mitch Lacey's book »The Scrum Field Guide: Practical Advice for Your First Year« is an extremely useful book that helps new Scrum practitioners take the first step from learning about Scrum to actually doing it. The book does not explain the basics of Scrum and its artifacts because it assumes that the reader is well informed already and wants to go from theory to practice. Each of the 30 chapters in this book jumps right in and gives practical advice that may be used in a real Scrum project.
Most of the chapters are structured similarly. At the beginning of the chapter there is a real life story as an example. Some of the topics that are covered in the chapters include: getting people on board, optimizing team performance, determining team velocity, implementing team roles, establishing core hours, presenting the case for a full time scrum master, establishing good engineering practices, understanding when we are done, release planning, decomposing user stories, getting the most out of the sprint review, running productive daily standup meetings, adding new team members, removing impediments and so on. Each chapter then explains a live scenario that illustrates how the topic would play out in real life. This ensures that the concepts do not end up as a bunch of theory to memorize but rather present a vivid scene that can be immediately applied in practice.
I was thrilled that I came across this book and I would highly recommend it to anyone looking for easy to understand guidelines on how to start implementing scrum principles immediately in their projects.