Software Extension to the PMBOK guide
|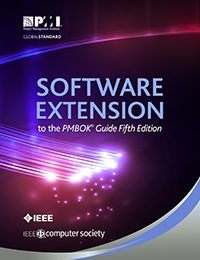 PMI continues with its annual publishing of extensions to the Project Management Body of Knowledge (PMBOK). This year they finally published the long awaited Software Extension to the PMBOK Guide Fifth Edition. The extension includes widely accepted practices in managing software projects.
The structure of the software extension is the same as the structure of the PMBOK guide. Each chapter includes extensions which are applicable to software projects. Some chapters have no extensions or very few of them, for example change management, which in software projects doesn't differ from the widely accepted change management as described in the PMBOK.
We find more extensions in the areas of risk management, communicating with stakeholders and monitoring and controlling. We know that software development presents numerous risks and that these types of projects are often not successful. We should be spending much more time and focus on risk management and relevant communication when managing IT projects.
PMI does not take sides for either traditional or agile project management, rather they include both approaches in the PMBOK. The software extension therefore also includes traditional as well as agile processes. Traditional planning, monitoring and controlling are accompanied by agile processes such as development in iterations, using information radiators and agile stories.
Although we may have until recently found the PMBOK to be too general or too focused on construction projects to be useful in IT, the software extension finally gives us the missing links so that we can use it in all types of software development projects.